You may have heard of this month's featured store on Daily MTG back in November. Derrick Sheets of Game On Chattanooga was able to take some time out of his busy Prerelease weekend to answer some questions about his store, his Grub for Gamers event, and how to keep players coming back.
I asked Derrick how long his store has been running Magic tournaments, and he was proud to tell me that not only have they been running tournaments since they opened their doors but they had run fourteen booster drafts that day! Derrick has played in (and won) Invitational Qualifiers before and said, "We have a good, solid competitive core of players in our area; it only seemed logical to run IQs."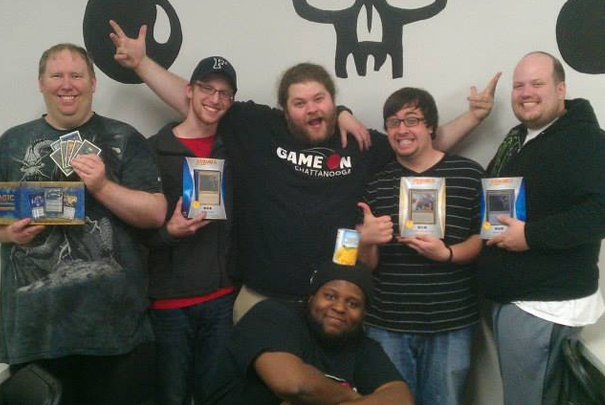 We will for sure be doing it again, hopefully going bigger and better! It was a wonderful weekend of events, and everyone loved it.
Last fall, Game On Chattanooga organized a Grub for Gamers food drive. "We ran a total of four events for our four most popular games (Magic, Warmachine, Warhammer, and Heroclix). For all the events, we came up with a 'system' where a person could 'cheat/break the rules' of the game for canned good donations." They raised over 2,000 pounds of food for the local food bank, and Derrick said, "We will for sure be doing it again, hopefully going bigger and better! It was a wonderful weekend of events, and everyone loved it."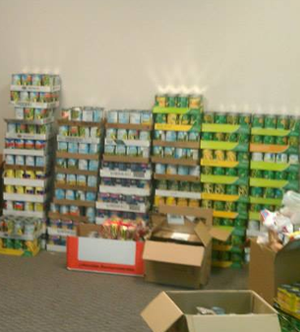 Like many small business owners, Derrick feels that it is important to give back to the community, and the food drive isn't the only charitable idea he has had. He has also looked into running a school supply drive or offering report card discounts for good students and sees it as another way to give people a reason to come back to his store.
As a successful tournament organizer, Derrick believes efficiency and a positive atmosphere are the most important parts of running a good event. He recommends doing what you can to cut down on "dead time" and doing your best to start punctually. When asked how he gets players to come back, he emphasized the importance of having a fun and positive environment and running events well. "I've been running or helping run events for ten years and have played in probably a thousand Magic events. I know what good ones look like and what bad ones look like. We're good at running events."
Derrick is the owner, tournament organizer, and Supreme Potentate of Game On Chattanooga in Tennessee. Check out Game On Chattanooga's Facebook page to see what cool events it has planned. If you would like your store to be featured in this column, send an email explaining why to [email protected]. If your store is in the Store Spotlight, we will also send you a coupon for a FREE Swag Pack for one of your events!
http://isp.starcitygames.com/wordpress/wp-content/uploads/2014/10/2014-02-game-on-chatanooga.png
270
710
ISP
http://isp.starcitygames.com/wordpress/wp-content/uploads/2019/01/ISP-2019.png
ISP
2014-02-03 15:30:31
2017-04-13 12:51:23
Gamers Giving Back