A StarCityGames.com organizer that does an amazing job of publicizing itself is the Nomad Game Center in Eau Claire, Wisconsin. I interviewed Dino Boni about some of the awesome things they're doing at this store. Nomad opened in March 2012 and made it up to Advanced level in just a few months.
One of the most noticeable features in the shop is a 6×4 foot banner with the store's logo and the Invitational Qualifier's logo that features information about the next Invitational Qualifier. Using the high-resolution graphics provided in Organizer Tools and Photoshop, Dino had two vinyl banners printed from eSigns.com for only $40 each. Dino said, "They can take dry erase markers with ease and wipe clean with Simple Green. Perfect for repeat use!" Nomad Game Center uses one hanging from the ceiling and another under their exterior sign.
Another awesome way to bring attention to the store is live streaming events on Twitch. Dino's setup is very impressive, with graphics they use during the stream and even commentary during matches. However, he assured me that you can set up a stream without much difficulty.
"The easiest way would be to use a laptop with a good Internet connection (you need at least 5 MB uplink for HD in our experience), a cheap webcam, and a tripod. OpenBroadcaster is free, as is a Twitch account. Use your store's social media accounts to get viewers —our first stream got over 5000 views!"
He added, "Our biggest problem is the glare that comes from the sleeves and the overhead lighting. We're looking for solutions to this, so if anyone has any let me know!"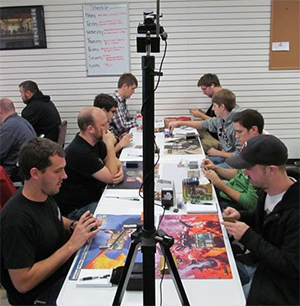 Dino attributed much of their success to good planning and promotion for their events. He tries to avoid splitting the local player base by booking events when other local stores aren't running something, putting out preregistration forms as soon as the next event is scheduled, and using social media to advertise the event. "We also make sure that we promote the events well; banners, Facebook (with paid ads — we generally throw $100-$200 of paid Facebook advertising at a single event) and word of mouth all help." He credited their judges and event staff as the biggest success in running events smoothly. "Customer service is paramount to Nomad, and we draw players from all over Wisconsin, Minnesota, and Michigan simply because we give the best experience for $25 you'll find anywhere."
Dino is the owner of Nomad Game Center in Eau Claire, WI. To check out their live streaming, take a look at their Facebook page. If you would like your store to be featured in this column, send an email explaining why to [email protected]. If your store is in the Store Spotlight, we will also send you a coupon for a FREE Swag Pack for one of your events!
http://isp.starcitygames.com/wordpress/wp-content/uploads/2014/10/2013-12-nomad.png
270
710
ISP
http://isp.starcitygames.com/wordpress/wp-content/uploads/2019/01/ISP-2019.png
ISP
2013-12-03 15:19:16
2017-04-13 12:51:23
The Nomad Way