One of the most important goals of StarCityGames.com In-Store Programs is working with local game stores to improve the Magic playing community. When local stores start working together to host events, we start to see amazing things happen. This Store Spotlight is not about one store, but six across the state of Nebraska who have joined together to host events from SCG Super Invitational Qualifiers up to the Spring SCG State Championships. They call themselves the Midwest Championship Group (or the MCG), and they do their best to provide Nebraska with top quality events.
According to Ryan Foxworthy, our main contact with the MCG, "It all started with Gary Lemburg from GI Card Shop coming to me in May of 2013 and saying how cool it would be to give out 6 boxes of Modern Masters." During that event, Ryan and Gary met with two more stores and planned on hosting an event with all four stores participating. Then, a fifth store was added for the next tournament and a sixth after that. The MCG now consists of Ryan Foxworthy at The Troll's Den, Gary Lemburg at GI Card Shop, Shawn Mohrmann from EZ Gamer, Daniel Schmidt of Hobbytown USA, Tom Gibbs and Louis McNichols at Underground Gaming, and Rick Poehling from Krypton Comics.
The MCG has hosted several large IQ events in Nebraska, and each time they do so, I can count on hearing from Ryan about increasing the prize support. They think big and plan for big turnouts, knowing that increasing the prize support is the best way to get players to an event. This is where working together really benefits them. "Each store is required to contribute a door prize, so with the collaboration alone, we can offer on average 6 booster boxes or more of just door prizes which really appeals to our growing community of players." (Don't forget, the In-Store Programs team is always happy to increase your prize payout on our advertising, so take advantage of that like the MCG does!)
The primary goal for the MCG is to host large Magic events for the community in the Midwest, and they continue to hit that goal with each event.
"Over the past several events we have had attendees from Colorado, Iowa, and South Dakota visit us. One attendee even drove up from Texas!"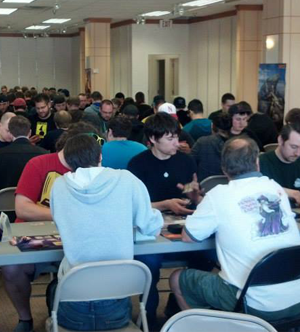 Since the stores are spread out across Nebraska, they can tap players from all over the state and even schedule events strategically near neighboring states to maximize their attendance.
How do you start working with another store in what can be a competitive business? When asked, Ryan said, "The advice I would give is start by just taking the owner of another store out to lunch and striking up a conversation. Usually, most store owners want what is best for their players, and a lot of people recognize that when you work together, great things can happen." Even if you don't host an event with another store, cross-promotion can be a huge boon once you have a good working relationship with another tournament organizer. The stores in the MCG are able to get their local players to travel all over the state because the push the group's events locally.
The Midwest Championship Group runs events on a regular basis, and you can see what they are up to on their Facebook page. If you would like your store to be featured in this column, send an email explaining why to [email protected] . If your store is in the Store Spotlight, we will also send you a coupon for a FREE Swag Pack for one of your events!
https://isp.starcitygames.com/wordpress/wp-content/uploads/2014/10/2014-06-midwest-championship-games.png
270
710
ISP
http://isp.starcitygames.com/wordpress/wp-content/uploads/2019/01/ISP-2019.png
ISP
2014-06-03 15:41:24
2017-04-13 12:51:04
6-Headed Giant