Ask any competitive Magic player how a tournament's EV (expected value) factors into deciding between which tournament to attend, and the higher EV tournament will win every time. Matthew Rubio of Game Heroes in Arvada, Colorado, knows this and has had great success by increasing the minimum prize payout at his store's, StarCityGames.com Invitational Qualifiers. By increasing the prize pool (and thus the EV of the tournaments), Game Heroes has had more than 80 players at a Regular IQ! That's more than double the average attendance for an IQ, that's 80 potential customers in the store, and that's more valuable exposure for Game Heroes.
Game Heroes opened in January 2013 and has run Invitational Qualifiers so well-attended that the store is now eligible to run Pro Tour Qualifiers. Their first IQ in October 2013 had 57 players—just three short of the minimum guaranteed attendance for a Super IQ! Matthew boosted the prize payout by adding a booster box of Theros to 1st place and lowered the entry fee to $20 for anyone who preregistered. (Remember, while StarCityGames.com Invitational Qualifiers have minimum prize payouts and maximum entry fees, organizers can always increase prize support and decrease entry fees. Just send an email to[email protected], and the In-Store Programs Team will update your advertising.) Just one year after opening, Game Heroes upped the prize support on a Regular IQ to $1,000 in prizes and had 80 players come to the event. Matthew explained his philosophy on prize support, "Increasing the prize pool offers more incentives for players to show up. Players get discouraged when stores pay out the same amount of prizes to 50 players that they would to 25 players. We believe that there should be guaranteed prize minimums as well as prize increases based on attendance. Do not be afraid to take risks. Yes, having a guarantee of great prizes/deals may seem intimidating, but players will respond positively, and having great attendance at events will lead to great things for your store."
Make sure to let everyone know about weekly events and specials, and make sure to take time to listen to every customer's concerns.
In addition to providing great prizes, Matthew believes another important part of running a successful event is organization.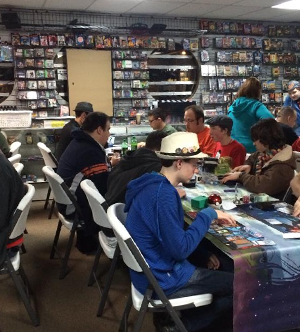 When talking about his January IQ he said, "We have been able to run 7 rounds of swiss and a Top 8 IQ of 80 players, in less than 10 hours due to the preparation work that we put into each event." When planning an event, he also uses Facebook to promote it as well as in-store posters and event calendars distributed to customers. When I asked him about turning IQ participants into regular customers, his advice was to "Make sure to let everyone know about weekly events and specials, and make sure to take time to listen to every customer's concerns."
Matthew is the owner of Game Heroes in Arvada, Colorado. See what he's doing for prizes at one of his StarCityGames.com IQs featured on the store's Facebook page. If you would like your store to be featured in this column, send an email explaining why to [email protected]. If your store is selected for the Store Spotlight, we will send you a coupon for a FREE Swag Pack for one of your events!
https://isp.starcitygames.com/wordpress/wp-content/uploads/2014/10/2014-03-game-heroes.png
270
710
ISP
http://isp.starcitygames.com/wordpress/wp-content/uploads/2019/01/ISP-2019.png
ISP
2014-03-03 15:43:21
2017-04-13 12:51:22
EV Heroes