Congratulations! You completed your event. All of the planning and preparation has lead to this final moment when you hand the blue envelope over to your champion. Now what do you do?
Step 1: Take A Picture Of The Winner!
The best place to do this is in front of one of your store's logos. Ensure they have their envelope and/or cash in hand, as it makes for an exciting experience for the player to have their picture taken with their loot.
Step 2: Export Your Tournament Details (WER file)!
Open Wizards Event Reporter and then your event. In the upper left corner, click "Save" and then "Export Event". Save the file to your desktop for easy access.
Now, open Organizer Tools and navigate to your event.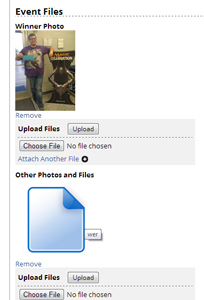 Fill in the attendance and Head Judge information. Next, upload your winner's photo in the upload box. After that, upload your WER file and any other pictures you may have taken during the event to the "Other Photos and Files" upload box.
Step 3: Enter Your Top 8 Decklists!
Fill in the players' names, DCI numbers and respective finishes in the fields located at the bottom of the page. When typing the decklists themselves, be sure to type the full card name with the exact same spelling as the card itself, including any punctuation. Also, if a player was playing with split cards, only type the first card in its name. For example, a player playing 4 Wear // Tear would be typed as "4 Wear".
Your Reporting Is Now Complete!
Once you have completed these steps, your reporting is complete! Your photos will be posted to the StarCityGames.com IQ Facebook page and your Top 8 decklists will appear on StarCityGames.com. If you have any issues during this process, don't hesitate to contact our In-Store Programs team at [email protected] for help.
If you have a question for the Mailbag, send an e-mail to [email protected] with the subject line "Mailbag". Have a great next event!
https://isp.starcitygames.com/wordpress/wp-content/uploads/2014/09/mailbag-narrow.png
135
710
ISP
http://isp.starcitygames.com/wordpress/wp-content/uploads/2019/01/ISP-2019.png
ISP
2013-10-03 17:01:44
2020-01-24 16:27:13
My IQ is finished, what do I do now?