Uncle's Games was founded almost twenty years before the first Magic: The Gathering card was designed. Its customers include Mike Elliot, Mark Rosewater, and Richard Garfield. With locations in malls all over Washington state, Uncle's Games is a natural fit for the StarCityGames.com Invitational Qualifier program. Of course, mall locations also have their limitations; what do you do when you want to run a large event? I asked Patrick Day, tournament organizer at the Uncle's Games Bellevue location, about running large events, Premier Invitational Qualifiers, and the new Creature Collection Retailer Bundles.
As any organizer in a mall location knows, there can be space limitations within the store. Patrick's solution? Use the biggest common space in the mall: the food court. "If you're finding resistence from the mall management, I would encourage you to recruit any food vendors to help make your case. Nothing is better for a food court than 100+ Magic players all trapped in one location for a day."
"If spilling into the mall is not an option, local community centers and schools can be great if you're on a budget. For larger events nothing beats the appeal of renting out an event center. If you're in a big city (Seattle is our closest neighbor), event space can be prohibitively expensive, but by hosting a Star City event you can leverage the existing clout of the brand to draw players to an offsite location – potentially a cheaper venue in the suburbs – that your own store could not support."
Uncle's Games did such a phenomenal job with the SCG Spring State Championships for Washington that they became part of the Premier Invitational Qualifier launch. They will host their first Premier IQ on September 27th at the Greater Tacoma Convention Center. Patrick is excited to work with other stores:
"Uncle's doesn't sell singles and we're sensitive about what existing game stores in the Tacoma area will think of us, so hosting this event enables us to invite local game stores as singles vendors."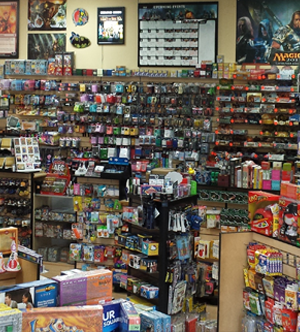 In addition to being an early Premier IQ host, Uncle's Games was among the first to purchase the StarCityGames.com Creature Collection Retailer Bundles. "Star City Games accessories are so popular in our local Magic community that it prompted me to ask Star City Games directly if there was a way we could begin to offer them in our stores. Thankfully Star City Games heard our request and we are excited to add the sleeves, playmats and deckboxes to our selection."
I asked Patrick about his advertising plan for the Retailer Bundle items. "I actually have not been advertising it much because I want to surprise our players at the Super IQ this Saturday. I know it's going to be an awesome surprise for the players that will certainly create sales for us."
To see what Uncle's Games has going on at their Bellevue location, check out their Facebook page. If you would like your store to be featured in this column, send an email explaining why to [email protected].
https://isp.starcitygames.com/wordpress/wp-content/uploads/2014/10/2014-07-uncles-games.png
270
710
ISP
http://isp.starcitygames.com/wordpress/wp-content/uploads/2019/01/ISP-2019.png
ISP
2014-07-03 15:45:34
2017-04-13 12:51:04
Say Uncle!