If you've ever done some research online about obtaining original Magic artwork, you've probably already heard of StarCityGames.com Organizer and avid art lover Mark Aronowitz. When I interviewed Mark, he had recently returned from "hanging out" at Melissa Benson's house. In addition to having impressive business relationships with several Magic artists, he has also run several successful StarCityGames.com Invitational Qualifiers.
When I asked about his store's history with Magic: The Gathering, Mark told me that they started selling cards "two weeks before The Dark came out" and he was sorry to have missed out on buying Alpha through Legends at regular price. His relationship with Magic artists stretches back eight years, when he first started selling artists' prints and books with original drawings added by artists.
Artist visits were something Mark inadvertently started while having a conversation with rk post. He casually said, "You should come to my store sometime," and was told that all he had to do was provide a flight and hotel and rk was on board. Mark used his frequent flier miles, had rk post stay at his house, and had his first artist visit at the store. Since then he's had Dan Frazier, Melissa Benson, Randy Gallegos, and Pete Venters at his store. I asked Mark what advice he has for an organizer who would like to cultivate a similar relationship, and he said, "Explain your store and your crowd. Artists want to make money at an event." In other words, if you have an audience that would be interested in paying for original Magic artwork, artists' proofs, etc., let the artist know. He also added, "You gotta be nice and have a good reputation."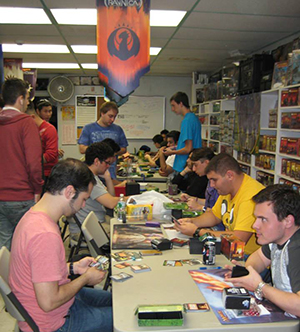 Mark has built great relationships with several artists by "being honest and open" and doing favors for them as a business owner. For example, Mark became Volkan Baga's representative because Baga attended a Grand Prix with Dan Frazier, another artist who attended an event at Mark's Comics and Collectibles, and Dan gave Mark a glowing recommendation.
I asked Mark what keeps him scheduling StarCityGames.com events, and he replied, "We make money! You can't get any better than that!" He also explained that he's in a very competitive area and needs something that will be a good draw and our events fit the bill. Mark's advice on running a good event is, "Be prepared. Make sure you have inventory of everything [the players] are going to want and be priced fairly. Make things upbeat. We put on music and have a good time."
To turn new customers into repeat customers at an event, Mark "smothers them with kindness." He finds out where they're from, mentions upcoming StarCityGames.com events or the next artist he'll have at the Prerelease (Rob Alexander at Born of the Gods), and gets them to like his page on Facebook. "I update Facebook once a day and my website once a month," Mark said, noting how much easier Facebook is to manage.
Mark is the owner of Mark's Comics and Collectibles in Valley Stream, New York. To see the impressive amount of artist work he sells, check out his Facebook page. If you would like your store to be featured in this column, send an email explaining why to[email protected]. If your store is in the Store Spotlight, we will also send you a coupon for a FREE Swag Pack for one of your events!
https://isp.starcitygames.com/wordpress/wp-content/uploads/2014/10/2013-11-marks-comics.png
270
710
ISP
http://isp.starcitygames.com/wordpress/wp-content/uploads/2019/01/ISP-2019.png
ISP
2013-11-03 19:03:08
2017-04-13 12:51:32
The Art of Running a Successful Store