The U.S. East Coast has opportunities every weekend in most states to play competitive Magic: the Gathering. The downside to this is that stores are bound to conflict with each other or skip some weekends to avoid hurting their neighbors. Steve LaManna of Get There Games in Staten Island, NY had to have more than one StarCityGames.com Invitational Qualifier rescheduled because a Pro Tour Qualifier was eventually put on the calendar for the same date, but with an idea from the head of StarCityGames.com In-Store Programs, Steve came up with a successful solution to his problem. He ran the first-ever weekday SCG Invitational Qualifier and had attendance close to the minimum guarantee for a Super Invitational Qualifier.
Get There Games has been running Magic tournaments for almost two years now and Steve has played in Invitational Qualifiers since before the store opened, and knew "they would be a key element in the competitive Magic scene." In the past year and a half, Get There Games has run over ten StarCityGames.com Invitational Qualifiers, with several of them being Super IQs. With this experience, coupled with some disappointing reschedules and cancellations due to scheduling conflicts, we knew Steve would be a good candidate to try a weekday SCG Invitational Qualifier.
After some emails back and forth explaining our proposal, Steve was on board and ready to start planning the event. "We checked the schedules of a few local colleges, and for the most part, colleges either had off for Passover or Spring Break. There were a few colleges that weren't off, but we didn't expect more than 30 people for this event." After doing his homework, Steve opted for Tuesday, April 15th for his event. We put up the advertising, made sure the website would correctly display an Invitational Qualifier on a Tuesday, and made sure players connected to StarCityGames.com via social media knew something was up.
Fifty-three players participated in the Get There Games Invitational Qualifier at noon, on a Tuesday. Fifty-three!
"The attendance was almost double what we expected. We were prepared to host that many people, but we certainly didn't anticipate it. A little more than half the players had a break from school, but a surprising amount scheduled their work week around the event."
The numbers speak volumes, but Steve made sure to share this with me: "We had a surprising amount of feedback stating that if we held weekday IQs more often, the players would certainly come out to play." StarCityGames.com In-Store Programs is thrilled to let organizers know that we will now consider requests for Invitational Qualifiers on weekdays. We recommend talking to your regular players or gathering feedback at your next event to gauge how successful your weekday event could be. Steve's advice on running a weekday Invitational Qualifier was, "As long as the majority of players have off, the tournament will fire."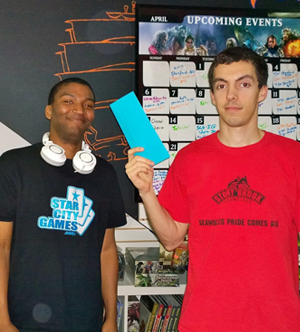 A successful weekday IQ is one thing, but Steve went as far as to say, "A weekly system comparable to Friday Night Magic seems appealing to a lot of players in the area if it had the Star City Games brand and Star City Games Open/Invitational bonuses attached to each event." While a regular weekly event is not currently available, as long as your weekday events are successful we can approve them and work with you to make them as frequent as possible.
Check out Get There Games' Facebook page to see its upcoming StarCityGames.com Invitational Qualifiers. If you would like your store to be featured in this column, send an email explaining why to [email protected]. If your store is in the Store Spotlight, we will also send you a coupon for a FREE Swag Pack for one of your events!
https://isp.starcitygames.com/wordpress/wp-content/uploads/2014/10/2014-05-get-there-games.png
270
710
ISP
http://isp.starcitygames.com/wordpress/wp-content/uploads/2019/01/ISP-2019.png
ISP
2014-05-03 15:35:37
2017-04-13 12:51:04
Weekday Warriors